A common inquiry I get is if I offer service dog training and if I can train dogs to be "emotional support service animals". There are a lot of misconceptions about what the difference is and what certification will guarantee your dog will be allowed to bring your dog into various public establishments. There is a lot to understand beforehand, and not every dog is suitable to be a working animal.
*Please note: I come from a background of training service dogs, but I do not provide completely finished service dogs ready for public access. If you have yet to acquire a dog, you can schedule a consultation with me to discuss the training process and best ways of acquiring a good candidate for service work. A 60 minute virtual consultation works great if you have not yet acquired a dog.
If you choose to work with me with a dog you already have, our first step is an in-person consultation so that I can assess the dog's potential. We always begin with basics and work for months on learning the process of how to effectively train with your dog.
I DO NOT PROVIDE THE SERVICE OF SIGNING TSA FORMS FOR AIR TRAVEL.
(Sorry to yell- I get a lot of inquiries about TSA forms and want people to notice!)
*There is no "certification" required for any service dog and I do not provide these. There is also no "ESA" certification (although many companies online try to sell both "certifications" illegitimately. Don't fall for it; it's a scam) and the only benefits an ESA enjoys is in some states a publicly managed rental property cannot charge you pet deposits or pet rent and you can bypass breed restrictions. You must consult with your mental healthcare provider if you are looking for that ESA benefit.
We will always need to begin with a 90-minute consultation to discuss your goals and for me to assess your dog's temperament and learning style. Hopefully, the information below will be helpful!
Service dog training can be a very long process which sometimes takes up to 2 years depending on the types of tasks your dog needs to learn. Your dog will then need to pass the ADI Public Access Test if you wish to ensure they will be able to handle the stress of working in public situations. You can read all about the criteria for qualifying as a service animal here.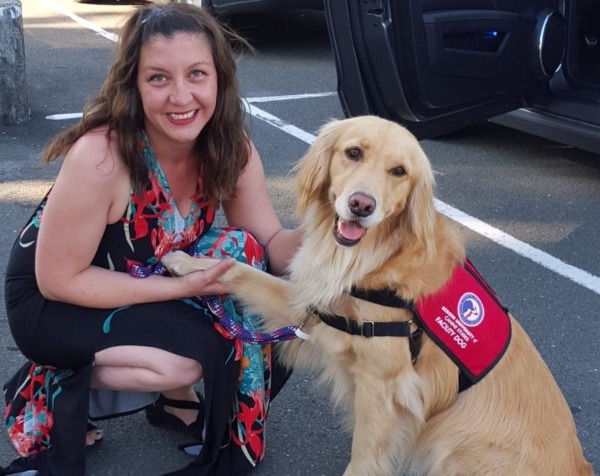 If you are interested in training a service dog and I am part of the process, it is best to contact me before procuring a dog so that I can help you select a candidate who is suited to become a capable service dog and increase your chances of success. If you are interested in training a dog you already own, I will need to assess your dog at your initial consultation and determine if they are a candidate for service work, and discuss your goals and training plan together.
Emotional Support Animals (ESAs) do not qualify as service animals and do not require specialized training. There is not an official certification other than a written letter from a qualified mental healthcare provider saying that a pet can benefit your mental health. An ESA allows you to bypass breed restrictions, weight limits, and pet deposits when renting from a publicly advertised management company; this does not apply to private landlords. Airlines also are no longer required to allow ESAs, although they may allow some smaller dogs to travel as "pets" in-cabin depending on the airline. There is also no certification that will guarantee any public establishment will allow an ESA to accompany you.
Despite not requiring training for mental/emotional health support tasks, if our pets are struggling with behavior issues, they can unintentionally add stress to our lives. Training any companion animal and ensuring they are happy and healthy is important to owning a pet and should be a priority whether or not our pets are intended for any working role. If you would like your dog to learn some tasks to help you emotionally, those are goals we can work towards if I determine at your consultation that your dog is a good candidate for performing such tasks.
Washington tenant laws regarding ESAs and service animal accommodation: https://tenantsunion.org/pdf/Assistance_and_Service_Animals_for_Tenants_Who_are_Persons_with_Disabilities.pdf
More information about ESAs and service animals: http://adata.org/guide/service-animals-and-emotional-support-animals